This is the latest installment in a series of "Character Insight" articles regarding the rich history of characters in the Star Trek universe. An audio version will appear on the This Week in Trek podcast, available for direct download
here
.
--------------------
Welcome back to Character Insight! This week, we continue the Trek movie villains series with Martia from The Undiscovered Country.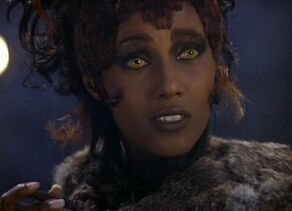 (
Certainly the best appearance provided by this shapeshifter
)
Martia comes in at number 13 on the list of top Trek villains.
Martia was a Chameloid imprisoned at Rura Penthe when Captain Kirk and Dr. McCoy are sent there as a part of a ploy to frame and then kill the Starfleet officers. Martia, much like Lieutenant Valeris who appeared previously on this list, was a small player who joined the bigger conspiracy at the front lines to try and encourage war between the Klingon Empire and the Federation.
In this role, Martia accepted a full pardon for helping Kirk and Bones escape from the penal colony, in order to give the guards a reason to kill the officers. However, it ends poorly for Martia as the commandant of Rura Penthe shoots her before trying to kill Kirk and McCoy. Thus, this shapeshifter gets exactly what she deserves, and the Han Solo-esque smuggler does not last long in this film.
(Quote of the Week)
Martia
: They'll respect you now.
Captain James T. Kirk
: That's a comfort. I was lucky that thing had knees.
Martia
: That was not his knee.
[
Kirk looks at Martia in surprise
]
Martia
: Not everyone keeps their genitals in the same place, Captain.
That being said, this relatively small performance is memorable enough to make this list because the use of a changling who actually morphed on screen via CGI was very new technology in 1991. Unlike previous uses in Willow and Terminator 2, two innovative shots included moving the camera during the morph and also morphing a character during a speaking line. Although the effect looks slightly dated now, the technology was amazing to watch at the time, making for another memorable villain. Just like the Terminator...
In addition to cloning Kirk's appearance, Martia shows up in three forms. Her primary form is as a tall attractive woman wearing furs looking like she walked straight out of Vogue, which is fitting considering former Vogue model Iman was cast in the role. That role was also originally considered for Sigourney Weaver, which would have been an interesting change.
Martia also shows up as the Brute, a hulking man-creature played by Tom Morga, and a small human girl, played by Katie Johnston. Iman payed constant attention to the mannerisms of Tom and Katie and incorporated their habits into her role to make the character more believable. Excellent acting gesture in a fairly undeveloped role before Odo made it commonplace in Trek.
In addition to this role, Iman also appeared in Miami Vice and the Cosby Show. She stopped acting in 1999, but she has produced two recent fashion television shows.
Until next time, live long and prosper...