This is the latest installment in a series of "Character Insight" articles regarding the rich history of characters in the Star Trek universe. An audio version will appear on the This Week in Trek podcast, available for direct download here.
--------------------
Welcome back to Character Insight! This week, we go from one TNG love interest to another, with a profile on Keiko O'Brien, a recurring character who appeared on TNG and Deep Space Nine.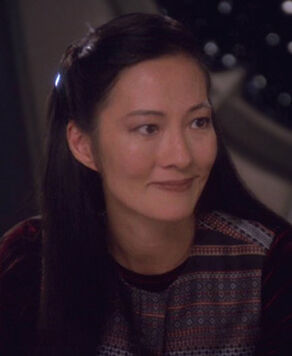 ("The woman behind Miles O'Brien, the guy who showed up in so many episodes of two different series!")
Keiko serves as a civilian botanist aboard Starfleet vessels like the Enterprise-D. During her time aboard the Enterprise, Data sets her up for a date with transporter chief Miles O'Brien. That leads to a healthy relationship which eventually is consummated in a wedding conducted by Captain Picard. Miles and Keiko also welcome their first child Molly into the world while he is on the Enterprise, although it is during a crisis so Keiko has to be instructed by Worf on how to give birth
("you may now give birth." - Disaster)
Perhaps as a result of her nature-based profession and Japanese heritage, Keiko loves to cook and especially dishes with seafood and plants like plankton loaf, much to the chagrin of her meat and potatoes loving husband Miles. Keiko also helped her grandmother with her calligraphy during youth in Japan, establishing one of many parts of a strong heritage she calls upon in her various roles in space.
Keiko actually does not make many appearances in TNG, although she is one of the central characters who gets turned into a child version of themselves in one of the worst episodes of this series Rascals. Thankfully, she is spared from continued silliness aboard Enterprise when she has to follow Miles when he is reassigned to Deep Space Nine.
She opens a school on board the station, as there is no need for a botanist. However, she eventually closes this down after the school gets bombed and focuses on mothering Molly and pursuing other passions, like a six-month agrobiology expedition on Bajor. This also leads to her and Miles having a second child, although complications with the pregnancy forces the fetus to be transferred and carried in Major Kira's womb to ensure Keiko and Kirayoshi would survive.
Her best episode is possibly Armageddon Game, where her knowledge of her husband Miles leads her to the conclusion that a security tape before he was allegedly killed in a weapon explosion is faked. That episode and her support of Miles in the episode Hard Time when he adjusts to returning to normal life after his mind is put through a life-time prison sentence shows the amazing strength and struggles many of us face in the long journey of marriage.
From the episode Armageddon Game:
Chief O'Brien
: You know... I wouldn't mind a cup of coffee right now.
Keiko O'Brien
: [
surprised
] Miles, you never drink coffee in the afternoon.
Chief O'Brien
: Sure I do!
Keiko O'Brien
: [
stunned
] You do?
Rosalind Chao played Keiko O'Brien, and she perhaps had even bigger hits in 80's appearances on After MASH as Klinger's wife and on Different Strokes. She's had smaller TV roles recently such as on The Neighbors and Don't Trust the B in Apartment 23.
------------
Feedback can be sent to me with future segment suggestions on Twitter @BuckeyeFitzy. Until next time, live long and prosper...