This is the latest installment in a series of "Character Insight" articles regarding the rich history of characters in the Star Trek universe. An audio version will appear on the This Week in Trek podcast, available for direct download
here
.
--------------------
Welcome back to Character Insight! There's nothing more relevant to taxes than money. This week, to celebrate tax day finally passing by last week in the U.S., we profile Private S. Money, a recurring character from Enterprise.
You know what's more annoying than tax day? (Enterprise theme song)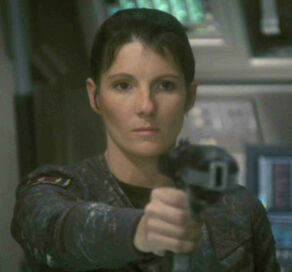 (MACOs and their guns, always together, courtesy memory-alpha.org)
What's not quite as annoying is the inclusion of the MACO troops during the Xindi conflict through most of season 3 of Enterprise. These characters were typically not credited for appearances, but some of them, like Private Money, were in nearly half the episodes and were effectively regular redshirts of the era.
Things start off well for Private Money, as she shows her expertise with a stun baton and a few types of guns and rifles in missions where parts of the crew had to take back the ship from boarding parties such as the Xindi and the Triannons. She also shows well for the MACOs in a combat exercise and sharpshooting competition against the enlisted Starfleet officers later in the year.
But like all redshirts, the good luck can't last forever. During a rescue mission to extract Hoshi Sato from the Xindi, she is shot but survives. The very next day, she is shot again during a repelling of a Sphere Builder ship invasion. The next time we see Private Money, she is hit by a disruptor shot when trying to stop the Augments from preventing a rescue of Arik Soong

. She's a true redshirt, soaking up as much if not more punishment than she doles out in security services.
Private Money is not paid to speak, she's paid to fight. Here's a sample of her killer jujitsu:
(Insert audio clip from Chosen Realm)
Private S. Money was named for a key costumer Susie Money, a nice nod to the background cast workers who make shows like this tick. Like other regular MACOs, this background character was a good face to see in the crowd for many episodes, and even more so as a woman who kicks some serious butt.
Speaking of background, Dorenda Moore is the actress who plays Private Money, and she makes much more of a living off stunt appearances and coordinating instead of acting. Enterprise was her only long term acting gig. She's been a stunt double for Natalie Portman in Thor, for Marina Sirtis in Terminal Error, and in Star Trek 2009.
Until next time, keep dodging death redshirts.
------------
Feedback can be sent to me with future segment suggestions on Twitter @BuckeyeFitzy. Until next time, live long and prosper...