This is the latest installment in a series of "Character Insight" articles regarding the rich history of characters in the Star Trek universe. An audio version will appear on the This Week in Trek podcast, available for direct download
here
.
--------------------
Welcome back to Character Insight! This week, we profile Kurn, who is Worf's brother and who appears in a few episodes of TNG and Deep Space Nine. And it's a bunch of Klingon honor episodes, which means StarMike can go take a nap for this one!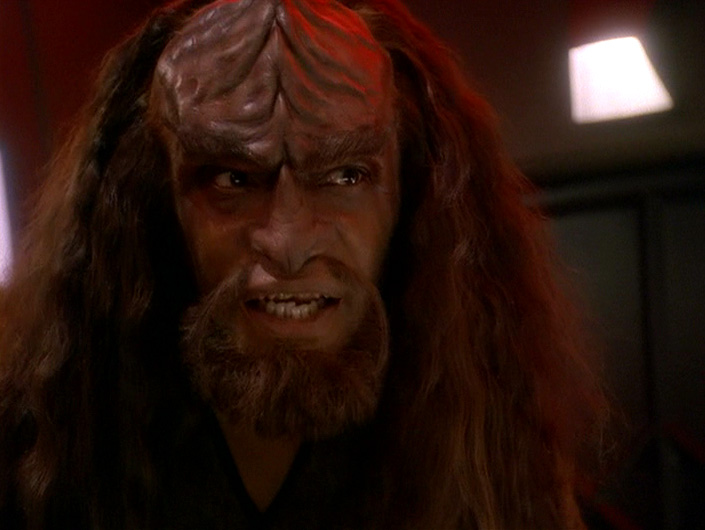 (TNG Klingons just have that badass look, courtesy memory-alpha.org)
Kurn grows up as the assumed son of Lorgh, a family friend of the Moghs, as a result of being left with Lorgh when Worf and his parents go to Khitomer on a trip that happened to coincide with the Khitomer Massacre. Thus, unlike the unique path that Worf takes, Kurn grows up as your typical Klingon warrior, even reaching the commander rank in the Klingon Defense Force.
Kurn does find out his true family heritage when reaching the age of ascension, and that becomes important when a Klingon high council member tarnishes the reputation of the Mogh family by accusing them of betraying the Klingons at Khitomer many years later. Kurn comes aboard Enterprise to evaluate his older brother and whether to seek his help, and they decide to go to Qo'nos to clear the family name in what passes for Klingon legal proceedings.
[[Stabbing sounds from fight in Sins of the Father]] and...
Kurn
: So, your blood is not so thin after all.
Lieutenant Worf
: I am a Klingon! If you doubt it, a demonstration can be arranged.
Kurn
: That is the response of a Klingon - the response I would expect... from my older brother.
Later, Worf talks Kurn out of assassinating Chancellor Gowron in an attempt to bring powerful leadership back to the Klingon Empire. Kurn listens to his younger brother and defends Gowron from other attacks, which leads to his further elevation to a high council member. Leading his brother from dishonored family to the high council so quickly shows why Worf became an excellent ambassador candidate.
Of course, no position of power is ever truly stable in the Klingon Empire, where backstabbing is more common than in Frank Underwood's Oval Office. Worf refused to join the Klingon invasion of the Cardassian Union in the preludes to the Dominion War, and that brought dishonor that kicked younger brother Kurn from the high council.
Kurn ends up suicidal but is eventually guided to a solution by the Deep Space Nine crew. Dr. Bashir erases his memory and alters his face and DNA, allowing him to assume a new identity as Rodek, the son of Noggra. Although he's much uglier then, at least he has his honor back.
From Sons of Mogh
Kurn
: I have never understood you, Worf. But I do know this: in your own way... you are an... honorable man.
[
he slums on the table
]
Lt. Commander Worf
: And you will be an honorable man again. But not as my brother.
Kurn or Rodek is an interesting character who makes for a good tie into Klingon stories for Worf. Thus, even though it would have been good to see this recurring character developed more, he did provide good fodder for furthering Worf's rich character build. Perhaps if Captain Worf gets his own show, this would be a good character to bring back somehow.
Kurn was played by Tony Todd, who also appeared as adult Jake Sisko in The Visitor and is set to appear in Star Trek Axanar this year. He is still very active today in acting, but his best role was probably as the title villain in the Candyman movies, which is the creepier cousin of Beetlejuice.
------------
Feedback can be sent to me with future segment suggestions on Twitter @BuckeyeFitzy. Until next time, live long and prosper...