This is the latest installment in a series of "Character Insight" articles regarding the rich history of characters in the Star Trek universe. An audio version will appear on the This Week in Trek podcast, available for direct download
here
.
--------------------
Welcome back to Character Insight! This week, we profile a recurring bridge crewman from early episodes of TOS, Lieutenant John Farrell.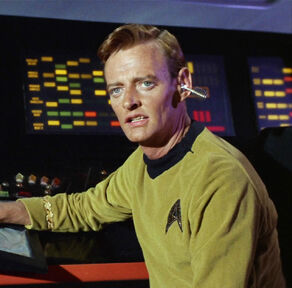 (This guy has a face made for radio, or communications in this case, courtesy memory-alpha.org)
Farrell serves as a command track bridge officer and therefore is seen as one of many communications officers on the show as well as one of an even bigger list of navigation officers to appear on the Enterprise. His first appearance was one of his most notable, as he is manipulated by Mudd's women into supplying her with a communicator and the frequency to contact miners which he wanted to defraud with the women. He just can't avoid the wiles and charm of these women, much like many other crew members. This is the only time his first name Johnny is mentioned as well.
Farrell also appears as a confused bridge officer when Captain Kirk is duplicated and both copies show up on the bridge to struggle for command in the episode The Enemy Within. His poise as a bridge officer showed much better in Miri, where he led the communications with a stranded landing party needing help in finding a cure to an ancient disease.
This character was also written into several other episodes, but his scenes never made the cut. for example, his character was replaced in the final scripts that were shot for The Naked Time and Charlie X. However, apparently his character was not compelling enough to keep around past the first season, even though it is never addressed if he is reassigned or killed/missing in action.
Farrell does appear in a small number of novels as well, including My Brother's Keeper: Constitution, and the novelizations of several episodes including those he did not actually appear in on screen. According to the books and comics, he goes on to become an instructor at Starfleet Academy. Apparently command didn't work out, because those who can't do, teach.
Farrell was played by James Goodwin, who enjoyed a 30 year acting career with mostly one-off bit appearances in many television series as well as TV movies. his three appearances on Star Trek tie his most appearances on any one show. These shows include Little House on the Prairie, Chips, and Perry Mason.
------------
Feedback can be sent to me with future segment suggestions on Twitter @BuckeyeFitzy. Until next time, live long and prosper...